The Project
The Lecture Capture pilot project forms part of the Digital Strategy for Education; supporting the University's Learning and Teaching Strategy 2015-2018.
It aims to set up, run and evaluate the use of lecture capture within a range of teaching scenarios to support or enhance the educational experience across the collegiate University.
The pilot will evaluate the use of Lecture Capture during the 2016-17 academic year. It will test the anticipated benefits to students and staff, and should enable reasonable conclusions to be drawn regarding costs and benefits of University-wide rollout.  It will deliver case studies and good practice guidance which will inform individual departments who can adopt Lecture Capture in a variety of ways in order to support their local teaching methods.
Key benefits
Lecture Capture should provide the following benefits:
increased student satisfaction, anticipated to arise from:
(i) reduced pressure on note-taking in lectures
(ii) allowing students to revisit complex topics
(iii) more readily available revision aids
greater equality of access – in particular students with certain disabilities may find the availability of lecture recordings mitigates any disadvantage
greater availability of lecture content and supporting data that may help enhance teaching
demonstration of an adoption model for new technology to support teaching across the University
Latest updates
An initial call for expressions of interest in the Lecture Capture pilot was sent to all Faculties and Departments on 27 April 2016, with responses requested by 27 May. 
Selection and confirmation of pilot institutions took place throughout June, with testing, training and implementation  during July-September. The following institutions were selected for the pilot:
Department of Biochemistry
Department of Chemistry
Institute of Continuing Education
Department of Engineering
Department of Veterinary Medicine
Department of Zoology
Biochemistry, Chemistry and ICE all began lecture capture at the start of the Michaelmas Term.  Engineering and the Vet School started recording at the start of the Lent Term with Zoology joining the pilot towards the end of Lent.  In some areas, only a selection of courses will be recorded.  Twelve lecture venues will be in  use in all, and 1,012 lectures have already been recorded (more than 629,000 minutes viewed), with another 33 recordings scheduled for the remainder of the Lent Term.
Staff and student help pages for institutions taking part in the pilot are available in Moodle.  All recordings are also accessible through Moodle, so that students can watch recordings via their normal course pages.  Recordings are only available to students registered on one of the participating courses.
An initial survey of students in Chemistry and Biochemistry at the end of the Michaelmas term identified overwhelming support for the technology and an interim report was made to the Digital Teaching and Learning Sub-committee (DTLS) in February 2017.  Further cohorts will be surveyed in Lent along with staff from all areas. An updated mid-point report will be sent to the DTLS in May 2017, with a full analysis and final report at the close of the pilot in July 2017.
Examples
Departments participating in the pilot have been given the option to record audio and slides/visualisers only, or to include video capture as well.  The choice of method varies by subject and teaching style.  If multiple feeds are captured, students are presented with multiple screens and quick-access slides along the bottom; they can skip through the lecture by time or by slide, and can make any screen full-size to see content more clearly.
Below are some examples of possible display options.
Example of voice and powerpoint only: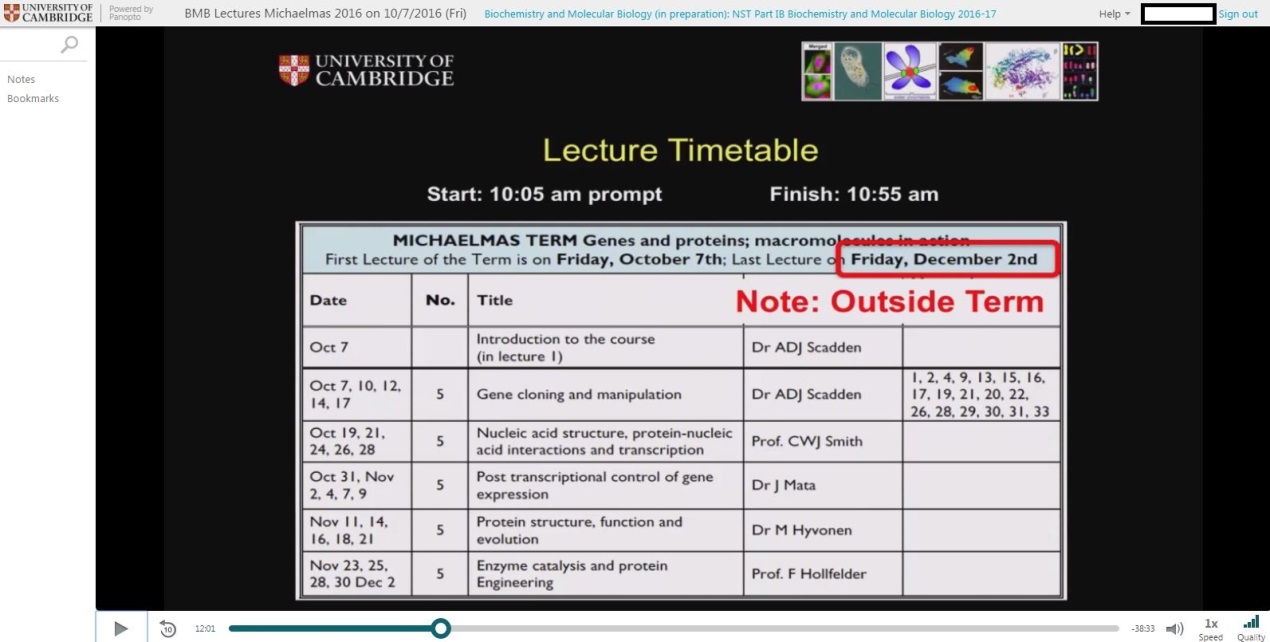 Example of powerpoint plus video; video image provided courtesy of a Creative Commons licence: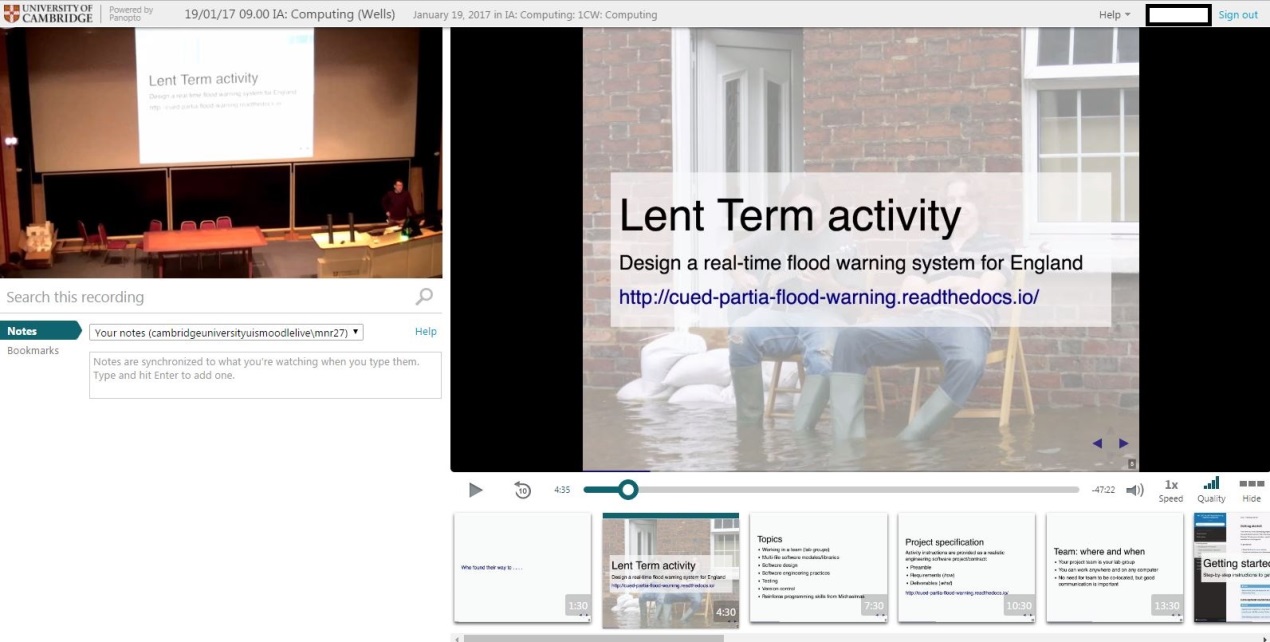 Example of video plus powerpoint and visualiser: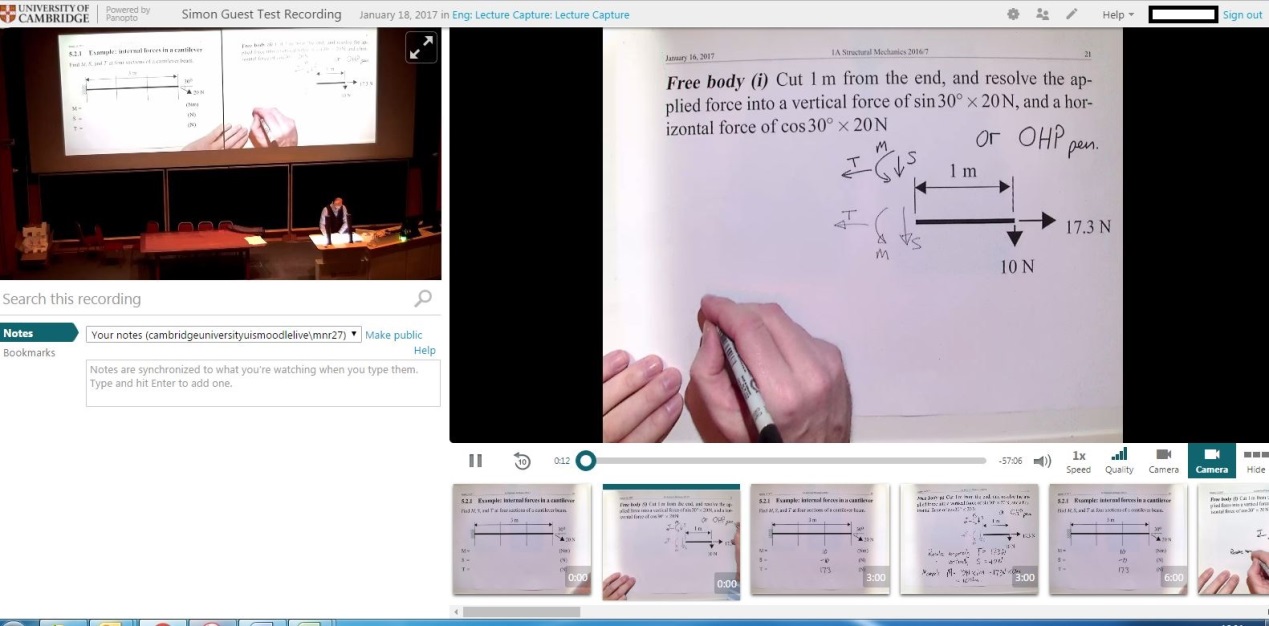 If you have any further queries on the project then please contact:  
Margaret Griggs
Project Manager
Email: lecture.capture@admin.cam.ac.uk
Tel: +44 (0)1223 765563