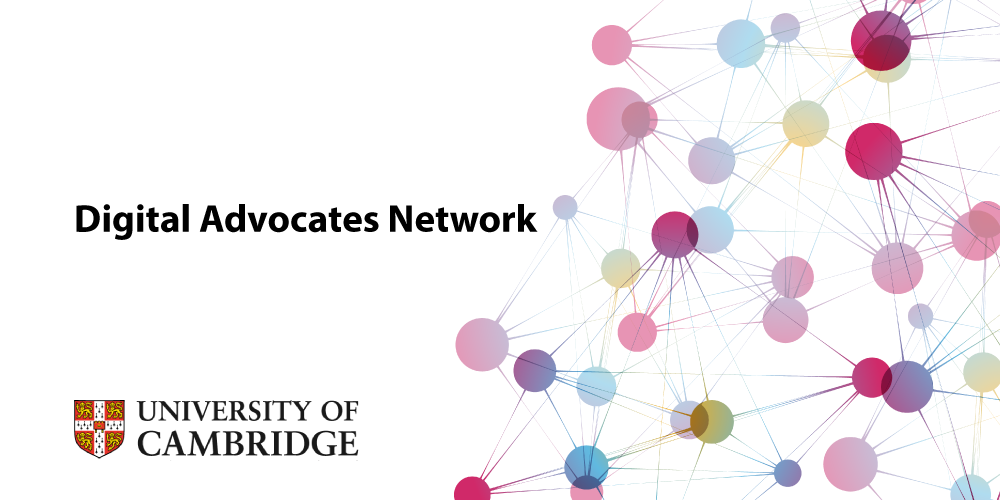 The Digital Advocates Network was created in the spring of 2018, to better support bottom-up initiatives to enhance teaching, learning and assessment across the collegiate University.
The Network has the following goals:
To gather information about the types of technologies that will best support disciplines in meeting teaching and learning aims;
To gather and share information about technology already in use;
To provide feedback to the University about pilot programmes or strategic initiatives that can help to meet teaching and learning goals;
To create a support network and to propagate innovation and good practice.
Events are held once per term and networking and information-sharing opportunities will be provided at each event. If you are interested, please join the Digital Advocates Mailing List (members of the University only; Raven-protected).
Next event
The next event will be held on Friday 9 November 2018 at the Alison Richard Building and will focus on assessment and engaging with the Digital Strategy for Education. Click here for full details and to register your place at the event.
Previous events
The Digital Advocates Network held an event on the 25th June 2018 at the School of Clinical Medicine. This event focused on how digital technologies are changing teaching delivery across our disciplines; creating a shared understanding of the role of this community within the Cambridge digital vision; and critiquing the JISC digital capabilities framework for the Cambridge context with the intention that we may adapt and adopt all or part of it. Download the full agenda for the day.
For further information about the Digital Advocates Network, please contact Melissa Rielly.