The Project
The University ran a pilot project on Lecture Capture during the 2016-17 academic year, which formed part of the Digital Strategy for Education; supporting the University's Learning and Teaching Strategy 2015-2018. The pilot's aims were to set up, run and evaluate the use of lecture capture within a range of teaching scenarios to support or enhance the educational experience across the collegiate University. It tested the anticipated benefits to students and staff, and enabled reasonable conclusions to be drawn regarding costs and benefits of University-wide rollout.
The pilot was successful and the University will now be offering Lecture Capture as a service in conjunction with University Information Services (UIS). The University is currently inviting bids from vendors, and plans to release a full service during the academic year 2018-19. It is anticipated that we will adopt a phased programme of rollout, led by Faculties and Departments across the next three years.
The lecture capture pilot delivered case studies that can offer best practice guidance to and inform individual Departments who can adopt Lecture Capture in a variety of ways in order to support their local teaching methods.
Case Study in Lecture Capture from Biochemistry
Case Study in Lecture Capture from the Institute of Continuing Education
Key Benefits
Lecture Capture offers the following benefits:
increased student satisfaction, anticipated to arise from:
(i) reduced pressure on note-taking in lectures
(ii) allowing students to revisit complex topics
(iii) more readily available revision aids
greater equality of access – in particular students with certain disabilities may find the availability of lecture recordings mitigates any disadvantage
greater availability of lecture content and supporting data that may help enhance teaching
Next Steps - July 2018
The University is currently seeking vendors for the service, which we anticipate will be in place early in the 2018-19 academic year. After this is in place, the University will formally launch the service and will be open to bids from interested Faculties and Departments. Throughout the rollout, we will continue to support those Departments who took part in the pilot phases.
Faculties and Departments interested in setting up the service in their local rooms should anticipate a communication at the start of the academic year. In the interim, updates will be posted on these pages as appropriate, or you can contact the Project Manager at: lecture.capture@admin.cam.ac.uk.
Examples
Departments participating in the pilot were given the option to record audio and slides/visualisers only, or to include video capture as well. The choice of method varied by subject and teaching style. If multiple feeds are captured, students are presented with multiple screens and quick-access slides along the bottom; they can skip through the lecture by time or by slide, and can make any screen full-size to see content more clearly.
Below are some examples of possible display options.
Example of voice and powerpoint only: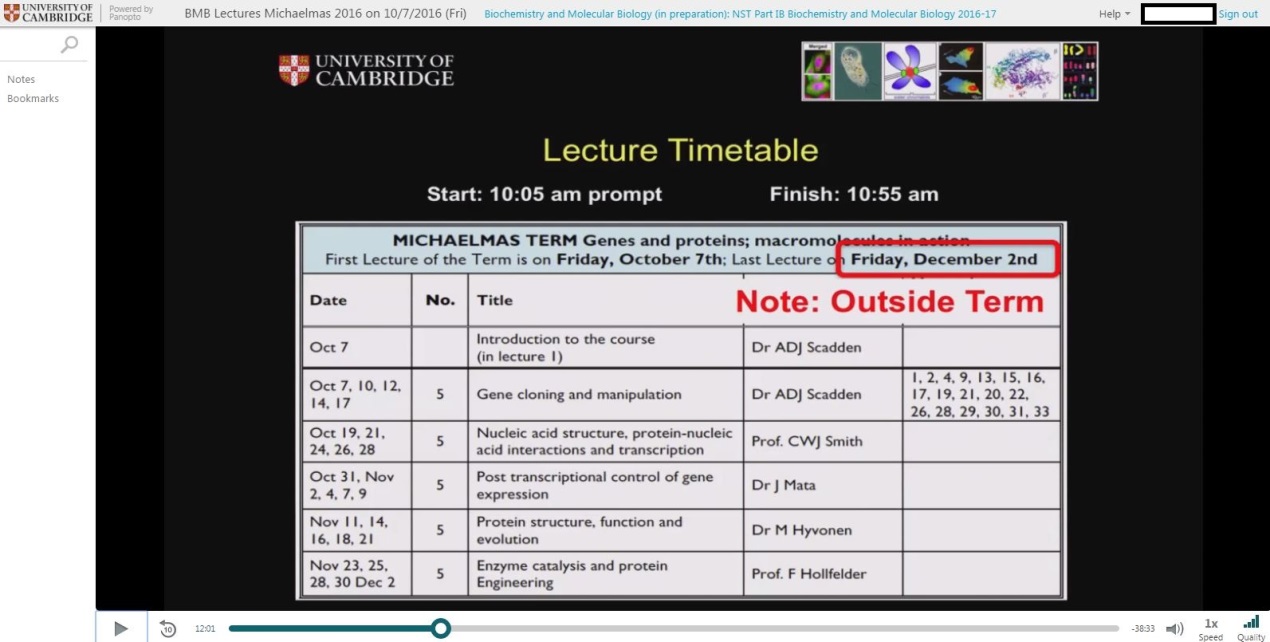 Example of powerpoint plus video; video image provided courtesy of a Creative Commons licence: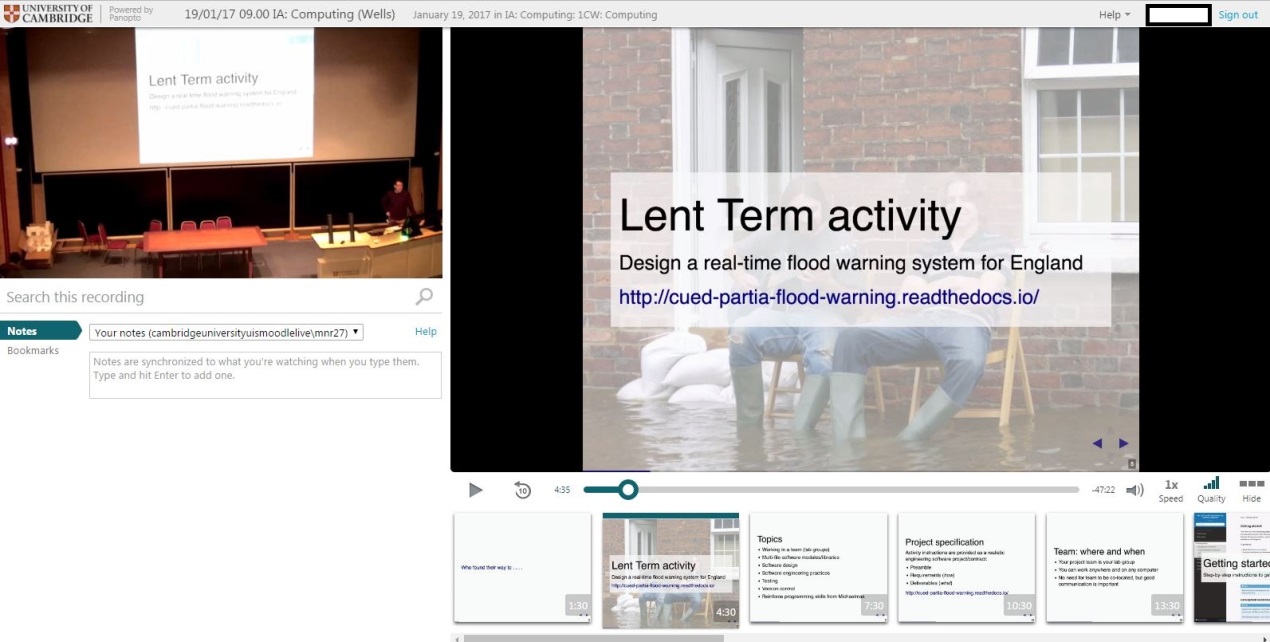 Example of video plus powerpoint and visualiser: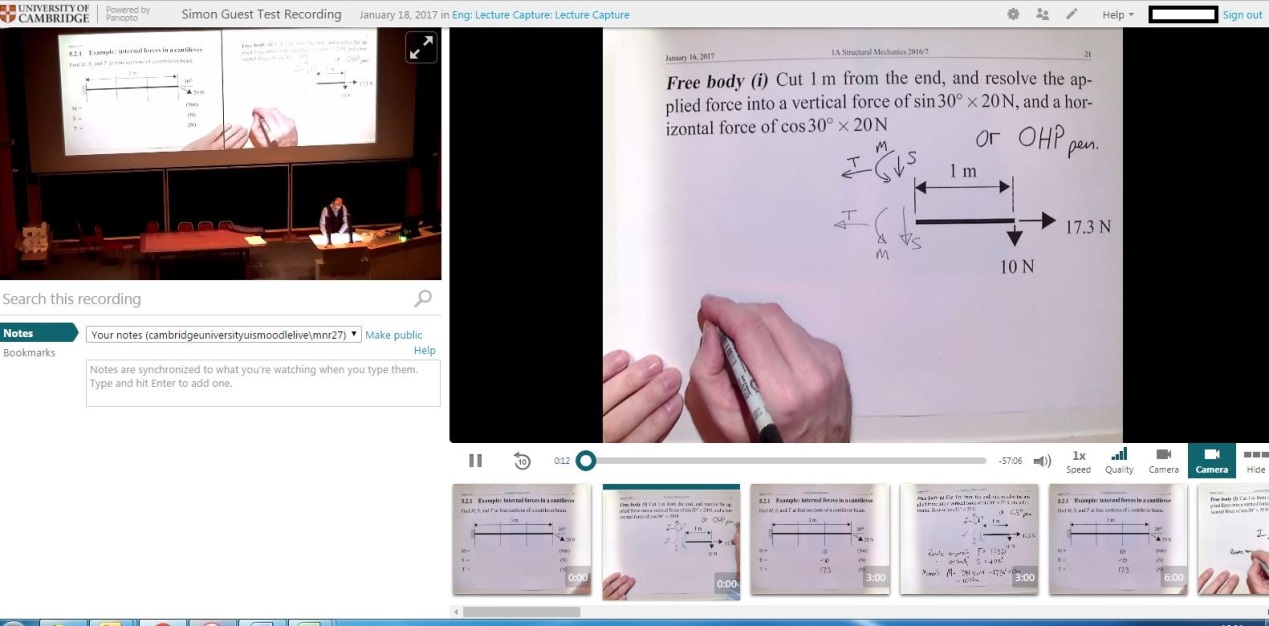 If you have any further queries on the project then please contact: lecture.capture@admin.cam.ac.uk