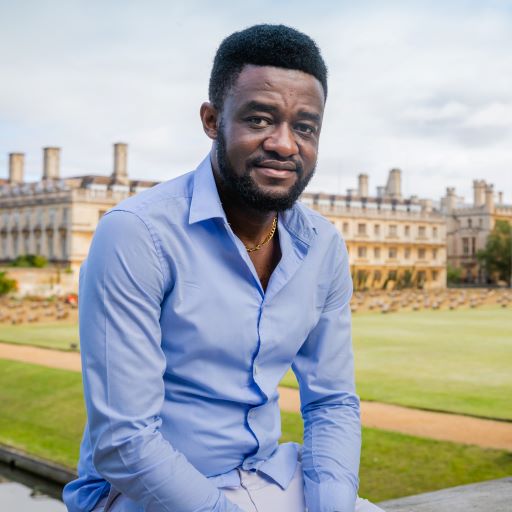 Photo by Lloyd Mann
David Izuogu
Winner, Access & Outreach
David Izuogu was nominated for the incredible breadth of his efforts to support access initiatives, and in particular for the non-profit organisation he founded dedicated to outreach, the Africa of our Dream Initiative.
David founded a non-profit organisation, the Africa of our Dream Initiative, after arriving in Cambridge in 2017. Since then he has used his foundation to run a series of outreach activities targeting Black students, especially in Africa. David's work in this area is extremely important: the misconception that Cambridge wouldn't take students from Africa due to a preconceived notion of the low standard of education in the continent prevents a lot of people from applying.
David devotes his time, energy, resources and skills to plan and run free annual outreach activities while partnering with various teams across the University, such as the Admissions Office and Cambridge Trust. Last year for example David reached more than 1500 students through a two-day global programme which brought together different University teams and current Cambridge students from various fields to interact with prospective students on making successful applications to Cambridge. He also runs a mentorship programme for current students to mentor those making an application.
David's selflessness, passion and total commitment to making a way for others and creating lasting impact is unrivalled.
In 2020-21, David was in the fourth year of his PhD in Theory & Computational Chemistry in the Department of Chemistry, at Wolfson College.