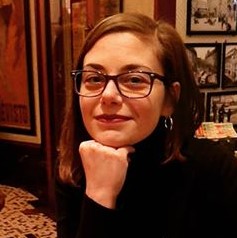 Anthie Moysidou
Highly Commended, Access & Outreach
Chrysanthi-Maria (Anthie) has been a tremendous asset to the Department of Chemical Engineering and Biotechnology and to Newnham College, primarily for outreach but also for peer support during the lockdown. She is a regular contributor to the Science Festival, contributing with presentations and organised activities for children. In 2019, she organised an event for the 2nd World Microbiome Day. She invited Dr Anne Neville from Microbiotica Ltd to talk about recent advances in microbiome research. Scientific communications people from local company Abcam joined too, and covered the event on social media. She is following this up with a virtual event this year that will feature a microbiome chef and Dr Giles Yeo, author of Gene Eating.
Not just content with doing outreach in the department, Anthie has been active in going to schools around the UK with the Newnham Schools Liaison Officer. In the last year she has delivered taster academic sessions to students of various ages from visiting schools, given a lecture for a Year 12 residential and visited schools... to talk about her research and her experiences as a PhD student. According to the Principal of Newnham College, Alison Rose, "Anthie is always keen to be involved and very reliable, so we're really grateful to have her help with Newnham's outreach projects."
Chrysanthi-Maria Moysidou is a PhD student in the Department of Chemical Engineering and Biotechnology at Newnham College (2019-20).