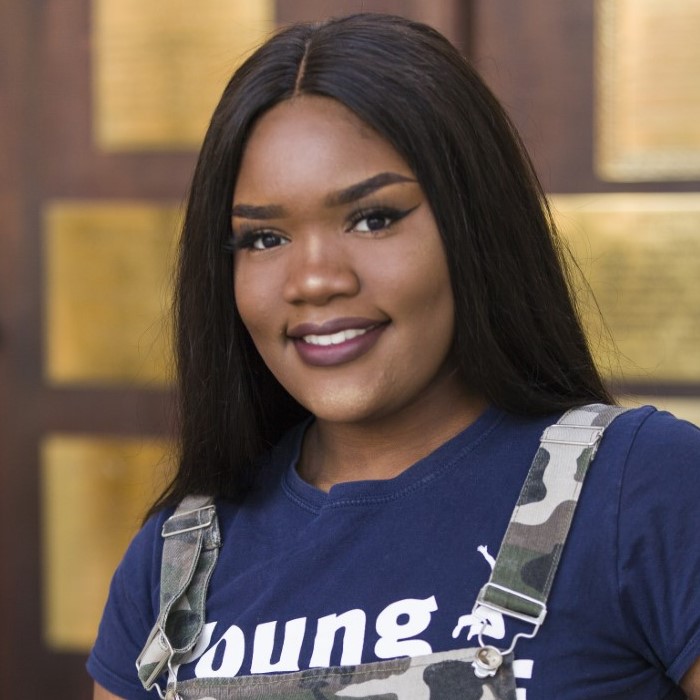 Wanipa Ndhlovu
Highly Commended, Access & Outreach
Wanipa Ndhlovu has made an exceptional contribution both to the College and to the University as the Trinity College Student Union BME Officer and President of the University's African Caribbean Society (ACS). Highlights of her tenure as President of the ACS were the 2019 Motherland Conference at the Cambridge Union and the Black History Month formal hall at Downing College where she hosted more than 160 students. She organised and led the ACS Access Conference in London in August 2019, the largest outreach event ever held by ACS.
Wanipa has been the main student voice on the University's new Black Access Working Group, which has taken a leadership role in thinking through the challenges in encouraging and supporting black applicants at both undergraduate and postgraduate level. She was active in the Get In Cambridge initiative, a suite of videos aimed at breaking down barriers to BAME students coming to Cambridge. She was also very active in her [BME Officer] role, being pivotal for example in organising the University exhibition Black Cantabs. She displayed superb organisational skills, an ability to enthuse and persuade others, and an understanding of the need for rapid action.
One of her last events before stepping down... was the BME Formal Hall at Trinity at which she made an impassioned speech tracing her family's history from Apartheid South Africa to Zambia and on to the UK. The BBC [filmed] the event as part of a documentary about black students at Cambridge [and asked] if she would become more involved in this initiative. If that comes to pass (given lockdown constraints), Wanipa is sure to come across as a brilliant advocate, both for black students aspiring to top universities, and for Cambridge itself.
Wanipa Ndhlovu is a second-year Undergraduate (2019-20) reading Law at Trinity College.